The Central Texas Regional Transportation Advisory Group (CTRTAG) functions as the Steering Committee to develop, update and approve regionally coordinated transportation planning documents, while providing Central Texas Council of Governments (CTCOG) staff with guidance and transportation related information.
The Regionally Coordinated Transportation Plan (RCTP) is a planning document intended to promote the most efficient use of regional transportation resources. Transit agencies receiving federal dollars are required to develop this Plan and update it every 5 years in accordance with guidelines provided by the Texas Department of Transportation (TxDOT) to ensure the Plan complies with state legislation relating to Statewide Coordination of Public Transportation. CTCOG partners with Hill Country Transit District (HCTD), the only regional public transit system, to update the RCTP for State Planning Region 23. In addition, CTCOG contracts with Texas A&M University-Central Texas (TAMU-CT) to utilize University staff and Graduate Assistants to develop, administer, compile and analyze a comprehensive needs assessment survey to evaluate public transportation inefficiencies and service gaps; conduct county hearings to gather public comment on Plan draft documents including vision and mission statements, goals and objectives, barriers and constraints and identification of opportunities; and compile all information and updates into the final RCTP Plan.   The counties covered by this plan include the seven counties in the CTCOG region—Bell, Coryell, Hamilton, Lampasas, Milam, Mills, and San Saba—plus Llano and Mason Counties. The Update to the 2013 Plan was recently completed and available for viewing below.
For more information on Hill Country Transit District (HCTD) and its nine county public transit system, The HOP, click here .
Download the 2017 Regional Coordinated Transportation Plan (last revision date 07.18.2018).
Planning Region 23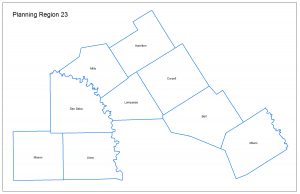 CTRTAG Meetings The Central Texas Regional Transportation Advisory Group typically meets quarterly or as needed.  CTRTAG is committed to compliance with the Americans with Disabilities Act (ADA). Reasonable accommodations and equal opportunity for effective communications will be provided upon request. Please contact Central Texas Council of Governments staff at 254-770-2200 at least 24 hours in advance if accommodation is needed. Advanced public notice is always provided and attendance and public comment is welcomed.
FY2017 Meetings
Agenda November 14, 2016 Minutes November 14, 2016  Meeting Packet November 14, 2016
Agenda December 13, 2016 Minutes December 13, 2016 Meeting Packet December 13, 2016
Agenda January 10, 2017 Minutes January 10, 2017  Meeting Packet January 10, 2017
Agenda February 2, 2017 Minutes February 2, 2017 Meeting Packet February 2, 2017
Agenda May 16, 2017 Meeting Packet May 16, 2017
Agenda August 15, 2017 Meeting Packet August 15, 2017
FY2017 Quarterly Reports
FY17 1st and 2nd Quarter Report
FY2016 Meetings
Agenda October 6, 2015 Minutes October 6, 2015 Meeting Packet October 6, 2015
Agenda November 17, 2015 Minutes November 17, 2015 Meeting Packet November 17, 2015
Agenda February 18, 2016 Minutes February 18, 2016 Meeting Packet February 18, 2016
Agenda April 27, 2016 Minutes April 27, 2016
Agenda August 10, 2016 Minutes August 10, 2016 Meeting Packet August 10, 2016
FY2016 Quarterly Reports
CTRTAG MEMBERSHIP Bylaws established by the Central Texas Regional Transportation Advisory Group limit membership to 15 voting members representing various organizations within the Central Texas Council of Governments area that have an interest in the regional transportation network.  These organizations include transportation providers, transit users, health and human services agencies, medical facilities, workforce centers, municipalities and other government agencies.  New members may be added at any time as needed; voting members are limited to two individuals from the same stakeholder group to ensure a broad mix of interests.  Click here to view list of current members.  Contact CTCOG staff if you are interested in becoming a member.
Sydnee Steelman
Regional Planner
Phone: (254) 770-2379
Fax: (254) 770-2360