The Scarecrow was looking for a brain.  The Tin Man was looking for a heart.  The Cowardly Lion really needed some courage.  Dorothy and Toto just wanted to find a way back home.  What are YOU looking for?  If you are a senior and live in Central Texas, whatever your need, you can find it at the Belton Senior Expo on Tuesday, September 22 (8:30 a.m. – 12:30 p.m.) at the Bell County Expo Center.  This event is FREE and open to the public so just follow the Yellow Brick Road and you will find 90 vendors providing information on: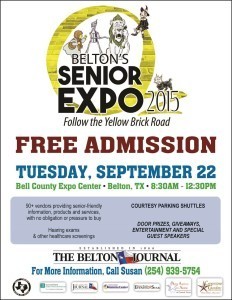 nutrition
fitness
housing
financial planning
pharmaceuticals
volunteer opportunities
hobbies
leisure activities
retirement communities
nursing facilities
rehabilitation facilities
Medicare
Medicaid, and
after-life arrangements.
There will also be a Wellness Center where Seton Medical Center and Martin Hearing will offer various FREE SCREENINGS.  This no-pressure, fun-filled morning will also include entertainment and door prizes!  There will also be two guest speakers:
Dr. Javier Banchs (9:30 a.m.) will discuss atrial fibrillation, a heart disorder in which the heart beats irregularly, and
Dr. William Nash (10:30 .am.) will discuss Alzheimer's disease.
Grab your friends, slip into your best ruby slippers and skip on down to the Belton Senior Expo!!
For more information, visit:  http://seniorexpobelton.com/