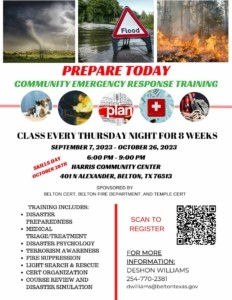 Are you prepared? This course will help volunteers and community members learn how to effectively be better prepared for local emergencies. There are eight units covered during the classroom portion: Disaster preparedness, fire suppression, disaster medical operations (2 modules), light search and rescue, team organization and disaster psychology, terrorism and CERT, and course review.
A disaster simulation will be held on October 28th at Temple Fire and Rescue Station 8. During the simulation, participants are able to put all skills and knowledge learned to the test.
This year's course is sponsored by Belton CERT, Belton Fire Department, and Temple CERT.
For course registration please click the find tickets button or copy the link under tickets to your browser.
We hope to see you there!
Registration link:
https://www.preparingtexas.org/DeliveryDetails.aspx?classid=577253d2-365c-4af3-be16-f1f40e738a46