Regional 9-1-1 Program
The Central Texas Council of Governments 9-1-1 Addressing Department serves seven counties and thirty-two cities. The CTCOG Region encompasses both the urban and rural areas contained within Bell, Coryell, Hamilton, Lampasas, Milam, Mills and San Saba Counties.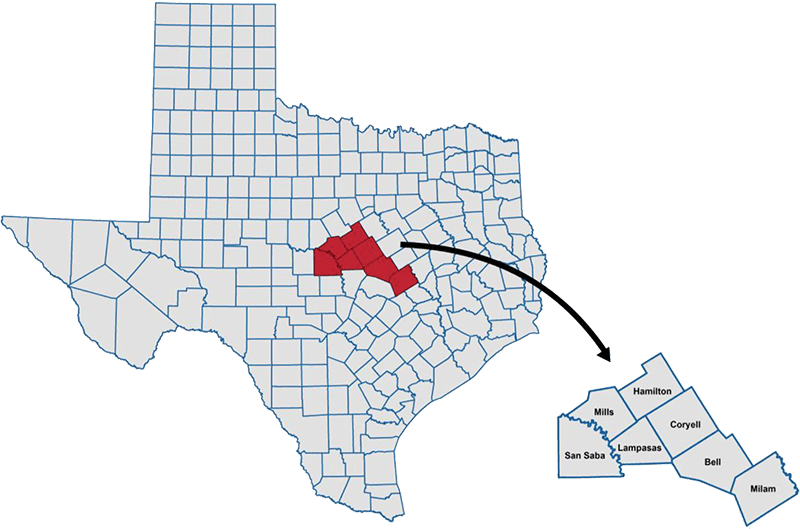 Rural Addressing
Proof of property ownership must be provided for all residential and commercial property addressing assignments, please provide a copy of the property deed along with the CTCOG Address Request Form. Property deed must include the name of requester and the property information. If the person requesting the address is not the property owner named on the deed, please be prepared to explain why the address is being requested on their behalf.
Please be prepared to supply three (3) or more of the following for address requests:
Location of driveway, if established
GPS-enabled photo
GPS coordinates of established

driveway and structure location

(How do I get GPS coordinates?) If your address is not found Click here to learn more.
Adjacent addresses and their distance and direction in relation to the requested site address
Property ID number or filing name (How do I find the property ID?)
Street location of address request
Distance and direction to at least one intersection
Distance of site off main road
Why can't I find my address on Google or a commercial GPS device?
CTCOG has current mapping and GIS data readily available for these companies to retrieve, free of charge. It is the responsibility of those agencies to update their databases with our provided information. If you have additional questions, please contact the customer service department of the corresponding agency.
Why are UPS, USPS, and FedEx not delivering to my house?
CTCOG sends weekly data updates to the Regional Postmaster, which includes address changes or additions. However, mail services such as UPS, USPS, and FedEx are responsible for contacting the Regional Postmaster to retrieve updated or new data. If you have additional questions, please contact the customer service department of the corresponding agency.
Why did my address change?
There are a multitude of reasons that your address may change, but all of those reasons ultimately lead to ensuring public safety. CTCOG has been designated by the State of Texas as the 9-1-1 addressing authority for the Central Texas region. Our subject matter experts review GIS data to provide a consistent addressing standard, which includes the numerical prefixes and roadway names. Historically, there were no addressing standards so occasionally established addresses must be changed to correlate with the improved model so that in the event of an emergency responders can reference surrounding markers to identify what the location of the emergency is.
You may be told that your address will require a Private Road label. If your driveway is .25 mile long or more, and/or there are two or more structures sharing the driveway, it qualifies as a Private Road and must be approved by the precinct's County Commissioner. Commissioners Court occurs regularly each month and a member of the CTCOG 9-1-1 addressing staff will attend to have pending inquiries approved.
Addressing Contacts
Addressing Coordinator/ GIS Technician
Jennifer Seastrunk
Office: (254) 770-2375
Email: jennifer.seastrunk@ctcog.org
9-1-1 Addressing Coordinator
Tanja Broom
Office: (254) 770-2420
Email: tanja.broom@ctcog.org
GIS Manager
Jesse Cathell
Phone: (254) 770-2377
Email: jesse.cathell@ctcog.org
GIS Special Projects Tech
José Nieves
Office: (254) 770-2362
Email: jose.nieves@ctcog.org
If a 9-1-1 Specialist is unable to receive your call, please leave a message and the call will be returned within two business days. Every effort will be made to process the address request within fifteen (15) business days, unless further information is required. While we try to assign all new addresses within 15 calendar days, sometimes we are unable to meet this timeline. In such cases CTCOG staff will reach out to the requestor to remedy any issues in a timely manner.