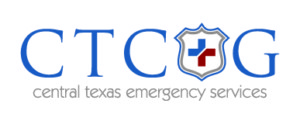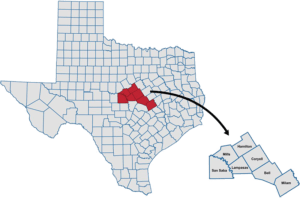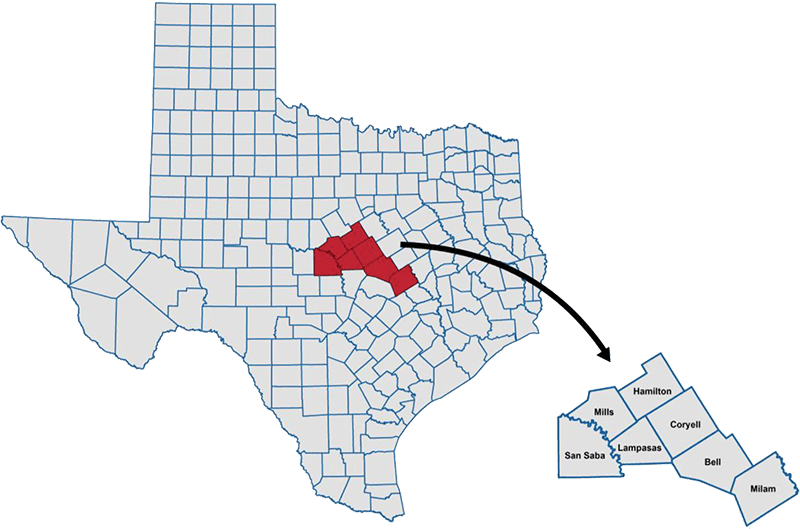 The Central Texas Council of Governments 9-1-1 Addressing Department serves seven counties and thirty-two cities. The CTCOG Region encompasses both the urban and rural areas contained within Bell, Coryell, Hamilton, Lampasas, Milam, Mills and San Saba Counties.
If you need to verify or have a rural address assigned, please download and complete our Address Request Form and email it to us at 911Addressing@ctcog.org.
Adobe Acrobat is required to fill out the address request form, click here to download the free software application.
Please be prepared to supply three (3) or more of the following for address requests:
An established driveway is required
GPS-enabled photo
GPS coordinates of established

driveway and structure location

(How do I get GPS coordinates?) If your address is not found Click here to learn more.
Adjacent addresses and their distance and direction in relation to the requested site address
Property ID number or filing name (How do I find the property ID?)
Street location of address request
Distance and direction to at least one intersection
Distance of site off main road
Frequently Asked Questions
CTCOG has current mapping and GIS data readily available for these companies to retrieve, free of charge. It is the responsibility of those agencies to update their databases with our provided information. If you have additional questions, please contact the customer service department of the corresponding agency.
CTCOG sends weekly data updates to the Regional Postmaster, which includes address changes or additions. However, mail services such as UPS, USPS, and FedEx are responsible for contacting the Regional Postmaster to retrieve updated or new data. If you have additional questions, please contact the customer service department of the corresponding agency.
There are a multitude of reasons that your address may change, but all of those reasons ultimately lead to ensuring public safety. CTCOG has been designated by the State of Texas as the 9-1-1 addressing authority for the Central Texas region. Our subject matter experts review GIS data to provide a consistent addressing standard, which includes the numerical prefixes and roadway names. Historically, there were no addressing standards so occasionally established addresses must be changed to correlate with the improved model so that in the event of an emergency responders can reference surrounding markers to identify what the location of the emergency is.
You may be told that your address will require a Private Road label. If your driveway is .25 mile long or more, and/or there are two or more structures sharing the driveway, it qualifies as a Private Road and must be approved by the precinct's County Commissioner. Commissioners Court occurs regularly each month and a member of the CTCOG 9-1-1 addressing staff will attend to have pending inquiries approved.