If you have a caregiver's heart, we can teach you the skills you need to become a Nurse Aide.  No experience necessary.  The healthcare industry is one of the fastest growing occupations. Our training program is designed using the Schmieding Method, the country's premier multi-training curriculum.  This method is used at every engagement level from the family member to the seasoned healthcare professional.  Come and see what it is all about at one of our General Information Sessions.  Choose one of the dates below and call us to make your reservation: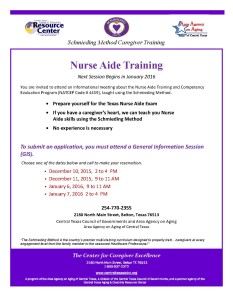 December 10, 2015 (2:00 p.m. – 4:00 p.m.)
December 11, 2015 (9:00 a.m. – 11:00 a.m.)
January 6, 2016 (9:00 a.m. – 11:00 a.m.)
January 7, 2016 (2:00 p.m. – 4:00 p.m.)
The Center for Caregiver Excellence is approved to teach the Texas State Nurse Aide Training and Competency Evaluation Program (NATCEP) of 110 hours (60 hours in the classroom, 40 hours of hands-on resident care in a nursing facility).  We also provide 10 additional hours of training pertaining to Alzheimer's Disease and other Dementias.  Other subjects in the course include:  communication and interpersonal skills, infection control, safety and emergency procedures, mental health and social service needs, and respecting residents' rights…just to name a few.  The classroom instruction takes place at our Center for Caregiver Excellence (2180 North Main, Belton, Texas) and is taught by well-trained RNs and LVNs.  The hands-on portion takes place at Senior Care of Marlandwood West (Temple, Texas).
Come to one of the General Information Sessions listed above and find out about costs for tuition and books along with any other requirements.
For reservations and additional information, 254-770-2355.