Geographic Information Systems (GIS)
The Central Texas Council of Governments GIS is responsible for tracking development, statistics, environmental and infrastructure data throughout the seven county region.  The GIS program is also tasked with development of solutions for member entities involving GIS and various forms of technology.
Hazard Mitigation/Homeland Security, 9-1-1, Killeen-Temple MPO, Area Agency on Aging and other specialized programs at CTCOG are currently utilizing GIS to increase efficiency and effectiveness of government.
CTCOG periodically enters agreements with other agencies in order to obtain aerial imagery and data at a more cost-effective rate. In the past we have worked with both CAPCOG's GeoMap program or  High Priority Imagery & Datasets Program (HPIDS) through TNRIS.  A 2011 agreement with TNRIS yielded LiDAR data for portions of Bell County, allowing more precise contour data to be generated, as well as provided data for flood analysis and mitigation.  In 2012, CTCOG partnered with CAPCOG to obtain aerial photography throughout our region.  Currently, TNRIS is coordinating high-accuracy LiDAR acquisitions in portions of our western counties.
We are adding downloadable map products to our web store, if you don't find what you need, please contact us.
Use our interactive regional map to view boundaries and other data throughout our region.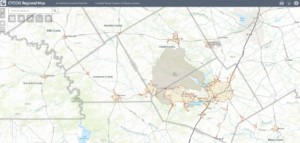 For general questions and information, please contact Jason Deckman (jason.deckman@ctcog.org) or Trevor Barrington (trevor.barrington@ctcog.org).
GIS Data Disclaimer
Our maps and GIS datasets are provided by CTCOG for informational purposes only and no guarantee of accuracy or completeness is intended or implied.  The data is provided "as is", and may be subject to updates and/or refinement.  The data may not be suitable for legal, surveying, or engineering purposes.