Each certified Nurse Aide must obtain 24 hours of CEUs every two years after receiving initial accreditation from the State of Texas in order to maintain their certification.  The Center for Caregiver Excellence is pleased to announce their list of Nurse Aide CEU classes for the 2017 Fiscal Year.  These classes cover such subjects as the role of mind/body as well as emotions/spirit in the caregiving environment.  Aides can also brush up on specific subjects such as COPD, Diabetes, and Dementia to name a few.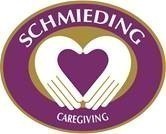 The Schmieding Method is the country's premier multi-training curriculum designed to properly train caregivers at every engagement level from the family member to the seasoned Healthcare Professional.
For more detailed information on cost, dates, and times, please see the attached bulletin.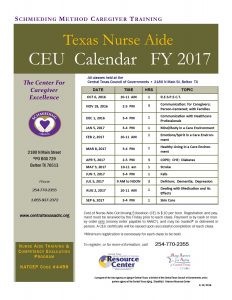 The Center for Caregiver Excellence
2180 North Main Street, Belton TX 76513, 1-855-937-2372
A program of the Area Agency on Aging of Central Texas, a division of the Central Texas Council of Governments, and a partner agency of the Central Texas Aging, Disability & Veterans Resource Center
ce-nurse-aide-calendar-fy-2017