The Area Agency on Aging of Central Texas (AAACT), the designated State Health Insurance Assistance Program (SHIP) for Bell County, will be available to meet with Medicare beneficiaries concerning health and prescription drug plan options for 2016 at the Central Texas Council of Governments building, 2180 North Main Street, Belton, Texas from 9:00 a.m. – 2:00 p.m. on the following dates:
October 16, 20, 23, and 27.
November 6, 10, 13, 17, 20, and 24.
December 1.
Assistance provided on a walk-in basis only.
Bring the following information with you:
Medicare Card
List of Medications & Dosage
Preferred Pharmacy
Household Income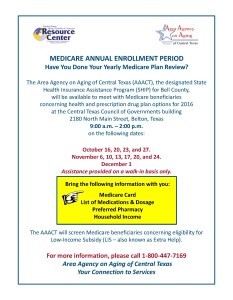 The AAACT will also screen Medicare beneficiaries concerning eligibility for Low-Income Subsidy (LIS – also known as Extra Help).
For more information, please call 1-800-447-7169.