The Central Texas Council of Governments is partnering with Baylor Scott and White's Mature Driver Program to bring CarFit to our area.  CarFit is an interactive and educational program designed to improve older driver safety.  It is FAST, FREE and FUN!!!
Trained technicians teach participants how to make their personal vehicle "fit" them by reviewing 12 key areas such as steering wheel tilt and placement, safe positioning of mirrors, properly adjusted head restraints, and line-of-sight, etc. Come learn how to use and adjust your safety devices.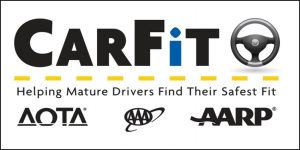 This is not a driving test or mechanical inspection!!!
Your participation in the CarFit event is voluntary.  CarFit staff will not make any changes to your personal vehicle. Education will be provided on proper placement for your safety and comfort.
While the procedure only takes about 30 minutes, appoints are recommended.  Don't miss out…call today!
When:     Friday, December 2, 2016, 9:00 am – 12:00 pm
Where:    Central Texas Council on Governments
                    2180 North Main Street – Belton, TX 76513
Contact:  Ravonne McCray, Mature Driver Program
                          1-866-332-0005 or 1-254-202-6539
            or Sign up online at www.car-fit.org