The Central Texas Family Violence Task Force (CTFVTF) invites you to attend the upcoming 8th Annual Bridging the Cap Conference to be held at Central Texas College on October 13 – 14, 2016 in Anderson Hall on the CTC campus from 8:00 am to 5:00 pm.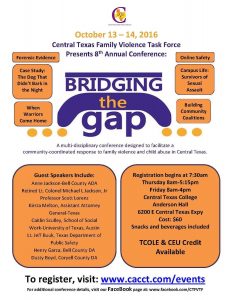 The conference is open to the public and anyone can attend, although it is primarily focused toward family advocacy, social workers and law enforcement. This conference will consist of dynamic presentations and workshops from a variety of speakers. Lunch on the first day and a T-shirt is included in the $60 registration fee. Online registration is encouraged: www.cacct.com/events .
The CTFVTF is a collaborative group of law enforcement, advocates, and other professionals combating family violence in the Central Texas area. CTFVTF seeks to change the way we see, talk about, and investigate family violence through education, meetings, collaboration, and conferences.
For more information about this conference or about CTFVTF regular meetings, visit their website: www.centexfv.com .