Lions and Tigers and Bears, Oh My! The Belton Senior Expo will follow the yellow brick road to the Bell County Expo Center on Tuesday, Sept. 22 from 8:30 a.m. to 12:30 p.m.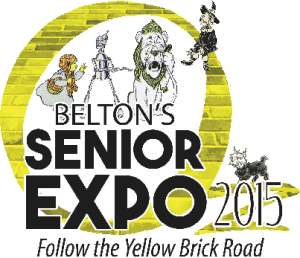 This free event will feature more than 90 vendors, as well as music by LaRon Tubbs. Vendors include the Lena Armstrong Public Library, local police departments, health care providers, dentists, volunteer opportunities, the Mature Driver program, exercise, travel, chiropractors, legal aid, financial advisors, senior centers and the VA, along with assisted living and nursing homes.
This is a no pressure event for our local seniors. No items of any kind will be sold, and vendors are not allowed to take attendees' information. We want our seniors to come out and enjoy themselves in a safe, friendly environment.
Door prizes will be given away during the event; check the number on your bag for a winning number. Prizes will be provided by select vendors and handed out by "Oz" throughout the event.
Parking shuttles will be provided by Texas Golf Karts to ensure easy access for seniors. Extra seating will also be available throughout the expo for attendees to rest in between visiting booths.
This year's expo will once again feature two speakers. The first will begin at 9:30, where Dr. Javier Banchs will speak on afibrillation. Dr. William Nash will follow at 10:30 with a presentation on Alzheimer's disease. These sessions will be held upstairs in the Special Events room. Look for signs directing visitors to an elevator that leads directly to the room.
Last year's event drew more than 900 seniors from across Central Texas and beyond. Join Dorothy, Toto and the gang for another year of free, no pressure information from across the Land of Central Texas.
For more information, contact Susan Gibson at (254) 939-5754 or visit SeniorExpoBelton.com