The Area Agency on Aging of Central Texas (a program of the Central Texas Council of Governments) is accepting applications for the position of Human Services Specialist I.
Individual will provide Bridge Model transitional care and CTI services to older adults discharging from a partner hospital and their caregivers. Individual will conduct comprehensive social work assessments before and after client discharge from the partner hospital(s). This position will also be responsible for management of short term Care Coordination Services.  Individual will work directly with older adults and caregivers to address unmet needs by connecting necessary care providers to each other or to the client/caregiver, exchanging health information in a timely manner, and setting up necessary community services before and after discharge.  Develop and maintain partnerships with organizations involved in client care.
Individual will perform routine human services support work. Individual must possess knowledge and basic understanding of the needs, problems and community environments of the aging population and of community and government service delivery systems.
Work involves:
assessing needs of individuals 60 years of age or older
effectively planning, arranging, coordinating and following-up on services
interviewing clients, family and/or caregivers to determine program eligibility
providing adequate information to help individuals make informed choices about federal/state/local programs and services
completing case reports and forms
documenting client services provided
maintaining case files and records
assisting potential clients in completing applications for services
explaining program benefits, requirements and procedures to clients and their family members/caregivers
developing/maintaining a network of cooperative working relationships within the community
conducting outreach/educational community events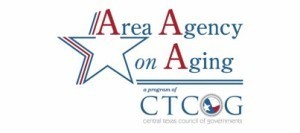 Applicants must have excellent communication skills and organizational skills. Bachelor's degree in social work and 2 – 5 years of experience in healthcare, social services or a related field are preferred or any equivalent combination of training and experience.
Please email your resume and CTCOG Employment Application to: donna.parker@ctcog.org.  No phone calls please.
The Area Agency on Aging of Central Texas is an Equal Opportunity Employer. Preference will be given to qualified applicants 60 years of age or older.