The Central Texas Aging, Disability & Veterans Resource Center (CTADVRC) is pleased to announce a new program available through the Rosalynn Carter Institute for Caregiving.   Operation Family Caregiver (OFC) is a FREE program for anyone caring for a family member with an injury due to military service after 9/11. It includes both visible and invisible injuries such as post-traumatic stress, major depression, and/or a traumatic brain injury.
This program is unique in that it is directed to the needs and challenges of the caregiver rather than the service member.  Caring for returning service members and veterans can take a toll on health and well-being. Military caregivers are at a high risk of physical and emotional stress and strain, but since many don't identify as caregivers, they may not seek help or support. Over time, military caregivers find themselves feeling depressed and hopeless. Operation Family Caregiver supports these caregivers and helps them better tackle their challenges and lay the foundation for a strong and healthy family.
How do you know if you are a military caregiver?  You are a caregiver if you…
assist a loved one or friend with normal activities of daily life, such as eating, dressing, toileting, shaving, etc.
have to help a loved one or friend through emotional "storms" or outbursts.
often miss work because you need to care for a loved one or friend.
advocate for new and better treatment for a loved one or friend.
sometimes feel overwhelmed as you care for a loved one or friend.
have taken on legal and/or financial responsibilities for a loved one or friend.
assist in health care (such as giving shots, changing dressings, etc.) and/or medication management for a loved one or friend.
identify and coordinate professional care and services (making arrangements for occupational health, physical therapy, etc.) for a loved one or friend.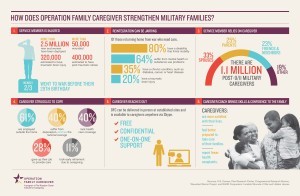 The program has been proven to work, resulting in strong and healthier families. Caregivers are less depressed and healthier, and children are less anxious.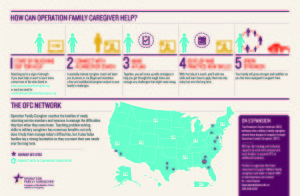 Our coaches meet face-to-face with the caregiver, in person or via Skype. The caregiver identifies a problem and they work together to solve it positively. Through visits, phone calls, and other support, caregivers develop new problem-solving techniques the caregiver can then use down the road.
Operation Family Caregiver About the Program
For more information, please contact the Central Texas Aging, Disability, and Veterans Resource Center:  855-937-2372.