Do you have questions about Medicare? Are you new to the system and having trouble managing the paperwork? Would you like to speak with someone who can help you navigate the process? Then you should attend the upcoming workshop, "Welcome to Medicare 2015" on September 10, 2015 from 9:00 a.m. – 12:00 p.m. at the Central Texas Council of Governments (2180 North Main, Belton, Texas)
This is an excellent opportunity to learn about Social Security, Medicare benefits, and healthcare choices. This event is FREE, however the seating is limited so you are encouraged to make reservations.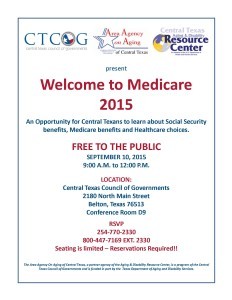 To RSVP and for additional information, call:
254-770-2330 or
800-447-7169 ext 2330.