The holidays are quickly approaching and they can be especially difficult when someone we love is suffering from Alzheimer's.  The Area Agency on Aging of Central Texas and the Central Texas Aging & Disability Resource Center have teamed up to provide a FREE 2-hour workshop on "Surviving the Holidays When a Loved One has Alzheimer's" on Wednesday, December 2 (9:00 a.m. – 11:00 a.m.).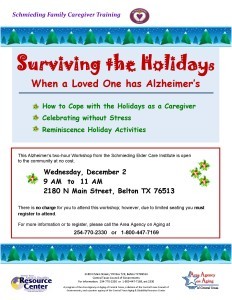 This workshop from the Schmeiding Elder Care Institute is open to the community and will be hosted at 2180 North Main Street in Belton (the Central Texas Council of Governments building).  Topics to be covered will include:
How to Cope with the Holidays as a Caregiver
Celebrating without Stress
Reminiscence Holiday Activities.
While this is a FREE workshop, seating is limited so you MUST REGISTER TO ATTEND.
For registration and more information, please call 254-770-2330 or 1-800-447-7169.Surviving the Holidays