CTCOG and Workforce Solutions of Central Texas invite you to learn more about your rights as a renter and home-buyer during a Fair Housing Workshop.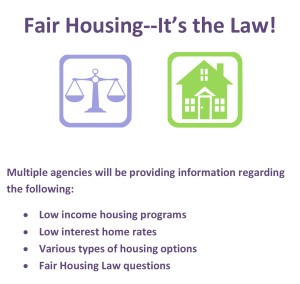 The Fair Housing Act was created as part of the Civil Rights Act of 1968 and prohibits discrimination in housing-related transactions based on race, color, national origin, religion, sex, familial status, and disability. Familial status means that among other things, you cannot be denied housing or evicted because of children in your family. Since that time, the laws have been expanded and clarified by Executive Orders and certain Acts passed by Congress. The laws and policy allow for people who feel they have been discriminated against to file complaints, starting with local agencies and going all the way up to the Department of Housing and Urban Development.
Learn more with us at the WorkForce Solutions offices located at 300 Cheyenne Drive in Killeen on April 20th. The event starts at 10am and ends at 2pm.
For questions regarding this event, contact Jim Martin at jimmy.martin@ctcog.org or by phone (254) 770-2364.